Guide Imp past treacherous monsters and unforgiving weather by drawing his path in this HIGH PACE side scroller and INSANELY ADDICTIVE game!

Imp must deliver the magical orb to its rightful owner before its too late, but be warned, the evil wizard will stop at nothing to get it back.

Imp can use orb's powers to unleash new bonuses as he collects power ups that will help him in his mission. Watch as seasons change and new bonuses arrive and join in on the fun in this competitive and addicting game by KOP Games.

******
Collect bonuses!
Dodge the monsters!
Don't let imp fall down!
Invite friends, their high scores will help you go farther and farther!
Live seasons to the fullest!

******
FEATURES

+ 7 different exciting and unique power ups.
+ 4 Live Seasons.
+ Many monsters, bugs, spiders and clouds.,,
+ Game Center leaderboards - Local, Global, Friends.
+ GAME CENTER FRIEND'S HIGH SCORES HELP YOU IN YOUR MISSION!!!

******
iTUNES REVIEWS (US)
"Very addicting and challenging game! Great graphics, music and smooth play. Makes you want to go further and further each time."

"It is an addictive game!!! It deserves every single star possible!!"

"Neat use of touchscreen and catchy design."

*****
HOW TO PLAY:
Touch to draw imp's path and tap the screen to jump. You are FREE to draw anywhere and navigate as you want!

******
GET THE LATEST IMP ESCAPE NEWS
Follow IMP on Twitter and Facebook Page to get the latest news and info.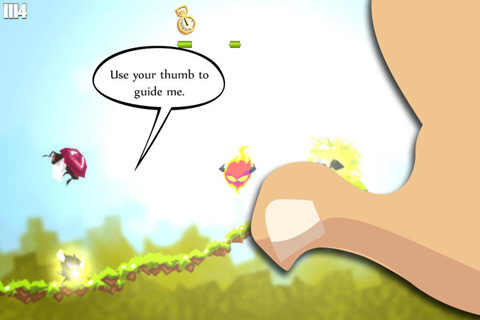 Get Imp Escape + in the App Store